Thanks to all the people taking part in my Fashion and Cookies' Bijou Fashion Giveaway ! We have the name of the winner of a fashion bijou of her choice among the eight ones that Bijou Fashion selected randomly by Rafflecopter ! And the lucky winner is, as you can see above, Bebe Lee from Singapore !!!.
Congratulations to the lucky winner ! Bebe, I am gonna send you an e-mail cause I need to know the jewel of your choice and then I will forward it to Bijou Fashion so please answer to the mail asap !.
To everyone, the amazing Romwe White Day Giveaway is still up until March 20th, so if you haven't entered yet, do it now, see image below and click on it to learn the rules and enter ! Kisses and thanks for your support in Fashion and Cookies !.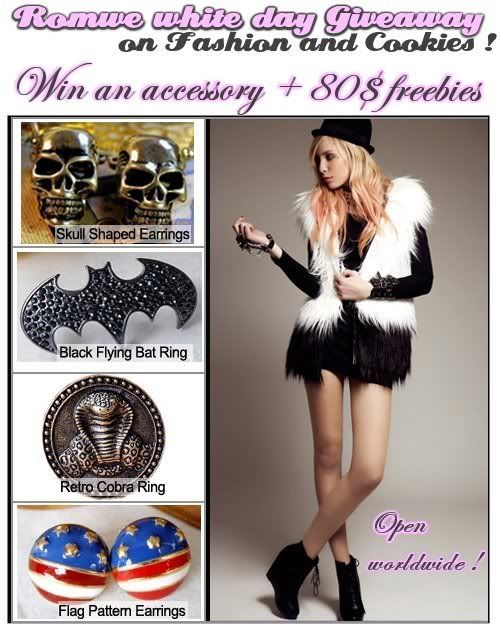 Grazie a tutti i partecipanti che hanno preso parte al Fashion and Cookies' Bijou Fashion Giveaway ! Abbiamo il nome della vincitrice di un fashion bijou a scelta tra gli otto proposti, selezionata a caso da Rafflecopter ! La fortunata vincitrice è, come potete vedere dall'immagine sopra, Bebe Lee da Singapore !!!.
Congratulazioni alla vincitrice ! Bebe, ti sto per inviare una mail per sapere quale sia il bijou scelto da te e poi la trasmetterò a Bijou Fashion per cui rispondi al più presto !.
Per tutti voi, non dimenticate che il Romwe White Day Giveaway è ancora attivo fino al 20 Marzo, per cui se non l'avete già fatto, iscrivetevi ora, cliccate sull'immagine che vedete sopra per leggere le regole e partecipare ! Baci e grazie per il sostegno che date a Fashion and Cookies !.